There's something about bringing the indoors outside that adds new life to a space and transforms it into an outdoor oasis. And spring, the season of rebirth, makes me want to get outside and rejuvenate parts of my home. Whether from the back patio, front porch, or far corner of my yard, not much warms my heart and recharges my spirit more than getting to experience my home from a new angle while enjoying the outdoors.
With a small budget and just a little knowledge of the key basics of creating outdoor spaces, you too can create an outdoor oasis to enjoy this spring, summer, and fall.
Finding the Right Space
Choosing your location is the first step and should be well planned. Think about how you want to enjoy this space– at night by a fire, during the day with a cold drink, bundled up when it rains, or in the mornings with coffee? Consider the sun and shade, the air flow, and options for privacy. Will you need an umbrella or fan to protect you and your guests on those hot and bright summer days? Will your neighbors be too close or viewable for comfort?
Consider, too, if you can create space in your yard with just a little effort– maybe there is a gem of a space hidden underneath that tree or in the corner of the fence. Pull back some weeds, vines, and leaves to find out. Drag a chair out to it and sit for a minute– take your time and feel it out.
While one space can't have it all, you can create a checklist of priorities and see which spots check off the most boxes. Set your sights there.
Seating that Works for Everyone
An obvious next step is to think of how you will enjoy that space, and if you're anything like the rest of us, you're going to want to sit to fully soak it all in.
How many people will this space seat? An early consideration should be whether or not you want hightop or low-top entertaining. Generally, if it is a high traffic area, hightop may be the way to go so that people can maneuver between one another more easily and socialize while standing or sitting.
Could you use multipurpose furniture that serves as seating and as a table? If your space is small and intimate, this could be a wisely efficient choice.
Think about materials for your seating and other furniture. Choose weatherproof woods, metals, and plastics with fabrics that can stand the test of weather and time (and a good powerwashing) while still providing comfort.
And if you're on a budget or eco-concscious, look around the house and garage to see what you can repurpose.
Lighting to Create a Mood
Bringing safety and a touch of magic, lighting is an important and often overlooked element. A couple of boxes of waterproof and shatterproof string-lights can go far on a low budget and add that warmth and sparkle to your new space. Light pollution is a concern, so try adding minimal lighting first– you don't want to light it up like an airplane landing strip, but you do want that soft, cozy glow for twilight and nighttime entertaining.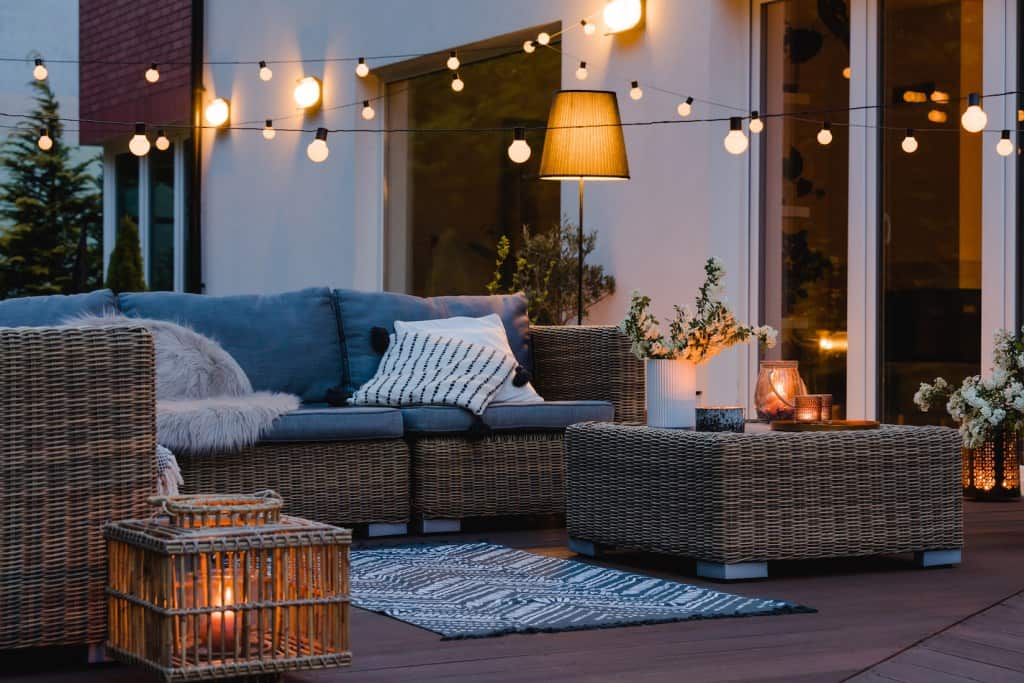 Firepits have been a leading outdoor trend for quite some time now that it's safe to say they're here to stay. Ranging from inexpensive and movable to custom and fixed, there's a firepit for every budget. Citronella candles and tiki torches can also add light for a low cost and repel those pesky bugs that lights and fires tend to attract.
Style for Your Outdoor Oasis
Now for the fun part! Add all of the color and pizzazz (that you can stand) in inexpensive ways. Throw pillows, outdoor rugs, candle holders, coasters, plants, and artwork will truly make this space feel like an extension of your home. Again, look for repurposing what you already have that could use a new life outside.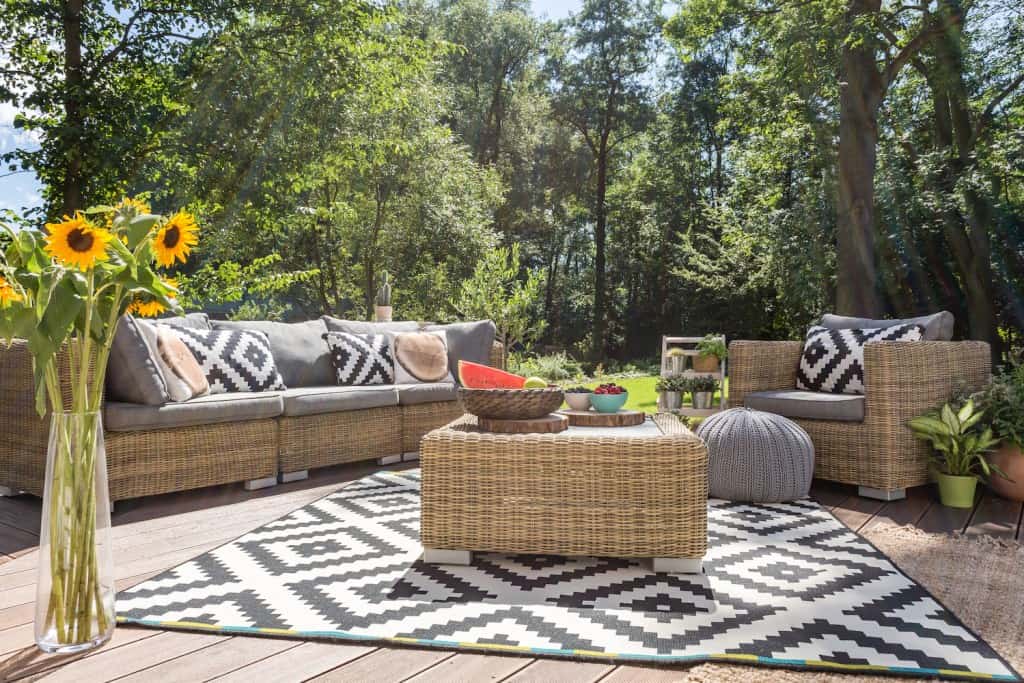 If this part feels overwhelming, join a Pinterest board for inspiration. It might also calm any anxieties if you make inexpensive choices and reuse old items because it doesn't hurt as much to change the style to match your tastes or keep up with the season. If you don't know your style, check out this Masterclass article that gives tips on how to find it, such as checking out your closet of clothes or creating a mood board.
Your options for creating this outdoor oasis vary greatly, but following these steps should help you narrow down your choices to better match your needs. Whether you're looking for peace and comfort or fun and laughter, there is a space outside waiting for your touch to bring it to life and add a fresh perspective of your own home.
This article is also featured in haushomemagazine.com.